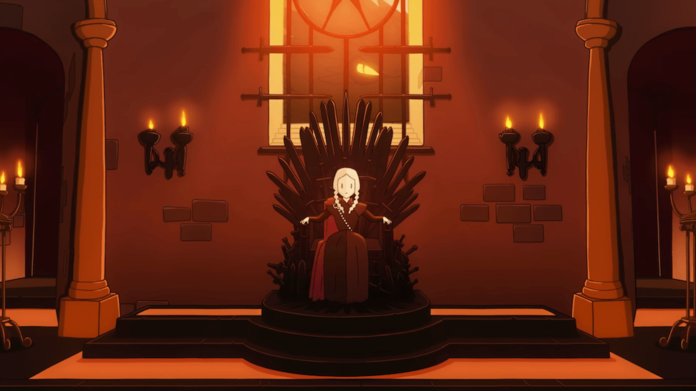 Avete letto i libri? Avete seguito la serie TV? È da tempo che desiderate fare due chiacchiere con Cersei Lannister, Jon Snow o parlare con Daenerys Targaryen dei suoi draghi?
Forse non potrete intraprendere dialoghi liberi, ma sicuramente potrete incontrarli e creare storie inedite per i personaggi piú amati del Trono di Spade, nel nuovo game per appassionati della serie "Il Trono di Spade": Reigns: Game of Thrones.
Reigns è un videogioco del 2016 pensato per il mercato mobile, realizzato da Nerial e pubblicato da Devolver Digital. A metà tra un librogame e Tinder, la chat di incontri, il gioco permette di gestire le sorti di un regno, come succede nella chat, con degli swipe a destra per le reazioni positive, a sinistra per quelle negative. Inutile dire che si tratta di un titolo perfetto per sessioni veloci ma dotato anche di una certa profondità, visto il successo era quasi inevitabile che il team di sviluppo pensasse ad una versione ispirata alla serie tv di HBO per eccellenza, Game of Thrones.
Perfetto per gli smartphone e PC, il gioco è già disponibile per l'acquisto sui relativi store di riferimento: App Store per sistemi iOS, Google Play per sistemi Android e GOG/Steam per PC.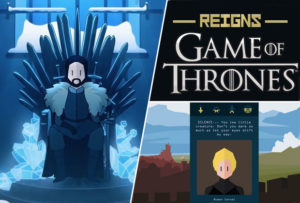 La trama? Il giocatore, nei panni del Re di Westeros (che sarà, a turno, uno fra i tanti personaggio che nell'opera bramano il trono), sarà chiamato a gestire tutte le incombenze della vita di corte con lo swipe di Tinder.
Il giocatore dovrà prestare attenzione a quattro elementi principali attorno ai quali ruota il destino del regno: il potere militare, la religione, il favore del popolo e le finanze. La narrativa del gioco sarà totalmente inedita e non avrà alcun riferimento a quanto accaduto nei libri di George R.R. Martin e nella serie tv di HBO, anche se si potranno incontrare tutti i personaggi più iconici della saga.
La grande libertà narrativa di Reigns: Game of Thrones darà quindi la possibilità al giocatore di dare vita a intrighi di corte mai visti. Tutto dipenderà solamente dalle scelte prese. Reigns: Game of Thrones è disponibile da oggi per dispositivi Android e PC al prezzo di 4,29 euro su Google Play Store e 3.99 euro su Steam.